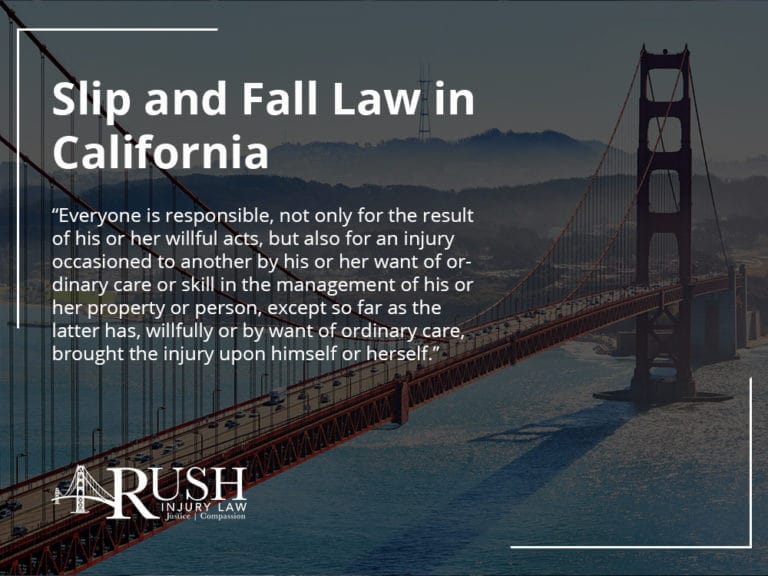 February is one of the coldest months of the year and with it comes snow, ice, and other nasty weather that can make outdoor trips treacherous. Slip and fall accidents (obviously) increase this time of year and business owners have an obligation to keep walkways and stairs clear of ice and snow. Personal injury claims in slip and fall accidents do have to meet several criteria for a settlement to be issued in the state of California. The experts at Rush Injury Law can help determine if your fall is the fault of someone else and collect the compensation you deserve.
Slip and Fall Law in California
California Civil Code 1714 (a) states:
"Everyone is responsible, not only for the result of his or her willful acts, but also for an injury occasioned to another by his or her want of ordinary care or skill in the management of his or her property or person, except so far as the latter has, willfully or by want of ordinary care, brought the injury upon himself or herself."
What does this mean? Property owners must make sure to prevent injuries to passersby by taking care of their surroundings in a reasonable manner. This means clearing ice and snow, laying down salt to prevent slips, and cleaning up wet areas. Most people think of ice and snow, but moisture tracked indoors to supermarkets or other places with tile floors are also hazardous.
The word "reasonable" appears in the law for a specific cause – slip and fall victims must prove they were injured as a result of negligence on the part of the property owner and not because of their own actions.
Comparative Negligence
Slip and fall claims will be denied if the person who fell did so because of their own actions. If the person slipping was inebriated, ignored warning signs, entered a blocked off area, or was distracted by their phone, insurance companies aren't going to bend over backward to pay you.
In California, comparative negligence is a concept where blame is divvied up between the two conflicting parties. A percentage of fault is placed on the head of both plaintiff and defendant. For example, say a person slips on an icy walkway, but they were distracted watching a video on their phone. The property owner is at fault for not clearing the walkway, but the victim will also share some blame due to their own carelessness. In this case, the property owner might be hit with $20,000 in damages, but only have to pay $15,000 if it's deemed the accident was 25% the fault of the person who slipped.
Rush Injury Law handles all sorts of personal injury and slip and fall claims, whether it's from an icy walkway in front of a business or a slippery floor in a movie theater. Our attorneys will help maximize your compensation so that you can account for medical bills, lost wages, and pain and suffering.