Vallejo Motorcycle Accident Lawyer
Many people living in the Vallejo area enjoy riding motorcycles. Some use them as their primary vehicles, while others enjoy riding for leisure during their free time. Unfortunately, while most motorcyclists are able to enjoy the roads of the Vallejo and reach their destinations safely, not all riders are this fortunate. Motorcycle accidents can and do happen, often with devastating results.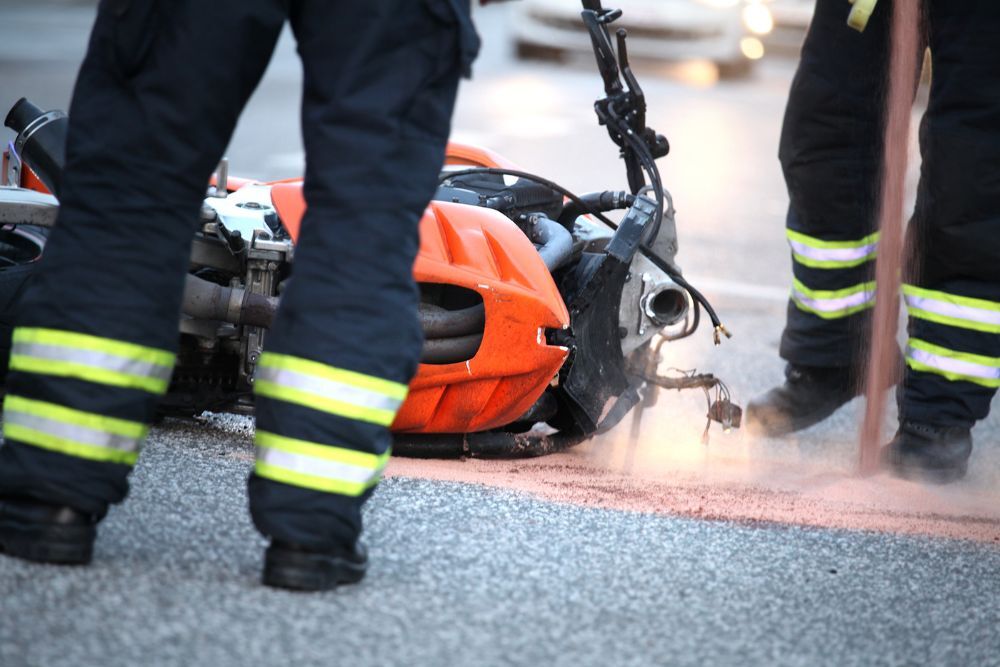 Helping Motorcycle Accident Victims Recover in Vallejo
If you or a loved one has recently experienced a motorcycle accident caused by another driver, you have the right to seek accountability for the damage they inflicted on you. Motorcycles lack the safety features of other enclosed passenger vehicles, so when motorcycle accidents happen, the risk of severe or fatal injury is much higher than it would be for most other accidents. When another driver causes severe injuries and substantial economic losses, a Vallejo motorcycle accident attorney is the best asset to have on your side throughout your recovery efforts.
Rush Injury Law has the professional legal experience, skills, and resources you need on your side to approach your motorcycle accident recovery with peace of mind. You likely face a difficult insurance claim process, and if insurance alone cannot compensate your losses, you must prepare for a personal injury claim against the defendant. Ultimately, your recovery from a recent accident could be far more challenging than you might have expected, and you need legal counsel you can trust to guide you through this difficult situation.
Hiring a Vallejo Motorcycle Accident Attorney Has Benefits
You can, technically, file an auto insurance claim against an at-fault driver after an accident and succeed by yourself, but you risk settling for less than an attorney could have obtained from the insurer for you. It is also possible to start and even succeed with a personal injury case against whoever caused your motorcycle accident, but you face many risks that could jeopardize your recovery. If you manage to succeed, you would be unlikely to secure the same amount of compensation an experienced attorney could have helped you obtain from the defendant.
No matter what your motorcycle accident recovery efforts entail, you need to be equipped to meet your challenges as you seek compensation for your losses. The personal injury laws of California are quite flexible in terms of the various claimable damages you could include in your civil action, but you must be prepared to meet demanding procedural requirements to succeed with your case.
Proving Fault for a Motorcycle Accident
The first step in recovering from any motor vehicle accident is determining fault for the incident. California upholds a fault rule for vehicle accidents, so whichever driver caused your motorcycle accident is responsible for all resulting damages. Liability is easier to prove in some cases than others, and working with an experienced Vallejo motorcycle accident attorney means they will be prepared to meet whatever unique challenges your case presents. Proving liability may require gathering physical evidence from the scene of the accident, carefully reviewing photos of the crash immediately after it occurred, collecting statements from witnesses who saw the crash, and obtaining digital evidence like traffic camera video footage, vehicle computer data, and cell phone records.
Rush Injury Law will work closely with our client in a motorcycle accident case to gather whatever evidence is necessary for them to firmly establish liability for their damages. Some common causes of motorcycle accidents that ultimately generate complex insurance disputes and damage claims include:
Distracted driving, the most commonly cited cause of all motor vehicle accidents throughout the country each year. Cell phone use and anything else that diverts a driver's attention from the road can easily cause a motorcycle accident.
Moving violations. If a driver performs an illegal turn, fails to navigate an intersection correctly, runs a stop sign, or commits any other moving violation, their disruption to the flow of traffic can catch a nearby motorcyclist unaware and cause a damaging collision.
Speeding. Speeding can not only increase the risk of an accident happening but also increase the severity of the resulting damages. For example, motorcycle accidents are especially likely to result in fatal injuries when they happen at high speeds.
Reckless driving. All drivers are expected to use good judgment behind the wheel and operate their vehicles responsibly. Aggressive driving or any type of willful disregard for the safety of others and traffic laws can easily result in liability for the victim's damages and criminal prosecution of the driver who was at fault.
Driving under the influence (DUI). It is illegal for any driver to operate a vehicle while intoxicated, and the penalties for doing so include fines, jail time, and driver's license suspension. In addition, DUI penalties increase sharply when a defendant causes an accident and injures someone else.
Anyone who intends to pursue a civil claim for damages of any kind must understand the state's comparative negligence statute, especially if they suspect they share fault in any measure for causing their claimed damages. California enforces a pure comparative negligence law. This means that when multiple parties share fault for civil damages, each party receives a fault percentage from the judge handling the case. When multiple defendants share liability for a plaintiff's damages, their respective fault percentages determine their respective shares of responsibility for the plaintiff's compensation.
A plaintiff may also share fault for their claimed damages. When pure comparative negligence applies to a plaintiff, they lose the percentage of their award that equals their fault percentage. So, if you are determined to be 10% responsible for the motorcycle accident and you are claiming $300,000 in damages, your comparative fault would amount to losing $30,000 of this case award.
In the event your recent motorcycle accident occurred because of intentional misconduct, the defendant may face liability for the damages they caused to you and criminal charges from the state. If the defendant in a civil case displayed clear disregard for the law and the safety of others, the judge overseeing the case could include punitive damages for the plaintiff to punish the defendant's actions and discourage similar behavior in the future. Similarly, the judge handling criminal sentencing could include restitution to the victim as part of the defendant's sentence. Your Vallejo motorcycle accident attorney will provide carefully tailored guidance for determining how a defendant's unlawful misconduct could potentially impact your recovery efforts.
Filing an Auto Insurance Claim in Vallejo
Once you have accurately determined responsibility for the motorcycle accident, you can begin your recovery. The first is an auto insurance claim against the driver who caused your motorcycle accident. All California drivers must carry auto insurance that meets the state's minimum coverage requirements.
An auto insurance policy in California must provide at least $15,000 in bodily injury liability coverage for a single person injured in an accident the policyholder causes. The policy must also provide at least $30,000 in bodily injury liability coverage for a single accident and at least $5,000 in property damage liability coverage. Though not strictly required, drivers are also encouraged to purchase underinsured/uninsured motorist coverage. This coverage enables you to file a claim against your own policy when an at-fault driver does not have insurance.
Your Vallejo motorcycle accident attorney will be a valuable asset for crafting your demand letter to the responsible driver's insurance company. You can rely on your legal team to examine the terms of the responsible driver's policy and draft a demand letter with as much evidence as is necessary to substantiate your claims. Once an insurer notices a claimant has legal counsel, they will be more inclined to process the claim efficiently and in good faith.
If auto insurance isn't an option for you after a motorcycle accident, or if your damages exceed the coverage available from the responsible driver's policy, you will need to file a personal injury claim against the driver who caused your accident to recover your remaining losses. Building a personal injury claim yourself while recovering from a serious accident would be incredibly difficult, so it is best to have an experienced Vallejo motorcycle accident attorney represent you in this situation.
Compensation You Can Claim in a Personal Injury Action
California's personal injury statutes enable a plaintiff to seek total compensation for all the economic losses they sustained due to a defendant's actions. Motorcycle accidents tend to result in severe injuries and have a great chance of causing catastrophic or fatal injuries as well. After exhausting their immediately claimable damages through insurance, the plaintiff can include any outstanding damages in their personal injury claim. For most plaintiffs, their economic damages are likely to include:
Costs of medical treatment. The defendant is responsible for any and all medical expenses the plaintiff accrues due to their actions. Motorcycle accidents can easily result in a host of devastating injuries, such as broken bones, traumatic brain injury, spinal damage, and severe burns. Your attorney can secure a medical report that outlines the full scope of injuries you incurred because of the defendant's actions.
Long-term health care expenses. Beyond immediate health care costs like hospital bills, many motorcycle accident victims will face long-term rehabilitation costs and other ongoing treatment costs, and the defendant must pay for these as well.
Lost income. Whenever a motorcycle accident results in a serious injury, the victim may be unable to work for an extended period of time. Therefore, the defendant is responsible for the income they lose during this time.
Lost future earnings. Some motorcycle accidents are severe enough to cause permanent disabilities. If your earning capacity has been negatively affected by a defendant's misconduct or negligence, they are liable for your lost future earning potential.
Property damage. The defendant's auto insurance policy may compensate some of the plaintiff's property losses, but any outstanding vehicle repair costs or other property damage can be included as economic damages in a civil claim.
Once your Vallejo motorcycle accident attorney helps you calculate the full range of immediate and future damages you can include in your claim, you might be surprised to learn your case is worth more than you expected. However, your compensation is unlikely to end with your economic damages if you have the right attorney handling your claim. You also have the right to compensation for your pain and suffering.
While it can be difficult to determine a fair monetary value for things like physical pain and emotional distress, your Vallejo motorcycle accident attorney can provide invaluable guidance in this regard, helping you figure out the appropriate amount of pain and suffering compensation to include in your personal injury claim. In California, there is no limit to the amount of pain and suffering compensation a plaintiff can seek in a motorcycle accident claim.
What You Can Expect From a Vallejo Motorcycle Accident Attorney
The team at Rush Injury Law has helped many clients recover from a wide range of personal injuries, including motorcycle accidents caused by negligent and intentionally dangerous drivers. So, when you choose our firm to represent you after a motorcycle accident in the Vallejo, CA, area, we have a broad range of professional experience to draw upon as we help you navigate your recovery efforts.
Our team can help you with an auto insurance claim after a motorcycle accident. We'll ensure your claim meets all applicable deadlines and contains all required supporting information. If disputes arise with insurance companies regarding your settlement, we'll address them for you as efficiently as possible. If you encounter any bad faith treatment from an insurer, our team can advise you of your best options for resolving this matter.
Once we have exhausted all your immediate recovery options after your accident, we'll begin building a personal injury claim to maximize your recovery. Our team has represented many clients who have suffered catastrophic and life-changing injuries like spinal cord damage, traumatic brain injury, and more. As a result, we have the experience needed to carefully uncover every channel of compensation available in your claim.
Common Motorcycle Accident FAQs
Q: Do I Really Need to Hire a Vallejo Motorcycle Accident Attorney?
A: It's not legally required to hire an attorney to help you recover from a recent motorcycle accident, but reliable legal representation can significantly improve the final outcome of your case. Instead of trying to manage your recovery and your legal affairs by yourself at the same time, you can recover with peace of mind while your legal team manages your case for you.
Q: How Much Is My Vallejo, CA, Motorcycle Accident Claim Worth?
A: The total potential value of any civil claim for damages depends on the total amount of economic losses caused by the defendant and the severity of the injuries the plaintiff suffered. Your Vallejo motorcycle accident attorney can help you calculate the full scope of damages you can seek from the defendant, including both immediate and future damages for severe injuries and compensation for your pain and suffering.
Q: How Much Will It Cost to Hire a Vallejo Motorcycle Accident Attorney?
A: When you are struggling with expensive medical bills and other economic issues following a car accident, worrying about the cost of an attorney to help you recover is natural. The team at Rush Injury law offers contingency fee billing to our personal injury clients, meaning there are no legal fees up front, and you only pay a fee after we win the case. Always be sure to fully understand a prospective attorney's billing policy before agreeing to their legal counsel.
Q: How Long Does It Take to Settle a Motorcycle Accident Claim in Vallejo?
A: The time required to resolve your case will depend on how easily you can prove fault and whether the defendant is willing to negotiate a settlement. Most of the personal injury claims filed in California end with privately settled agreements, and it is typically in the best interests of both parties to settle their case as swiftly as possible. If a settlement is not an option, the case proceeds to trial and will take much longer to conclude.
Q: What Difference Can a Vallejo Motorcycle Accident Attorney Make?
A: The right attorney can provide a wide range of legal services to help the victim of a motorcycle accident recover. You can rely on your attorney to manage all the preliminary filing requirements for your case and to compile the evidence you need to prove fault. In addition, they can assist with your auto insurance claim if insurance is available before helping you proceed with a civil claim. Your Vallejo motorcycle accident attorney can make a tremendous positive difference in the final outcome you reach in your case.
Trust Our Vallejo Motorcycle Accident Lawyers With Your Claim
The team at Rush Injury Law is ready to offer the compassionate and supportive legal counsel you and your family need to recover as fully as possible from a recent motorcycle accident. If you are ready to discuss your recovery options with a Vallejo motorcycle accident attorney, contact Rush Injury Law today and schedule a consultation with our team.