San Francisco Motorcycle Accident Attorney
Motorcycles are popular in the San Francisco area and throughout the state, and even the most experienced and cautious riders must acknowledge the risks they face while using these vehicles. Motorcycles are inherently dangerous for many reasons, especially because of their small size, lack of physical protection from crash impact forces, and their lack of safety features found standard in most enclosed passenger vehicles. While a standard vehicle will have seatbelts, airbags, and a crash-resistant vehicle frame that can absorb impact forces, a motorcycle offers none of these defenses.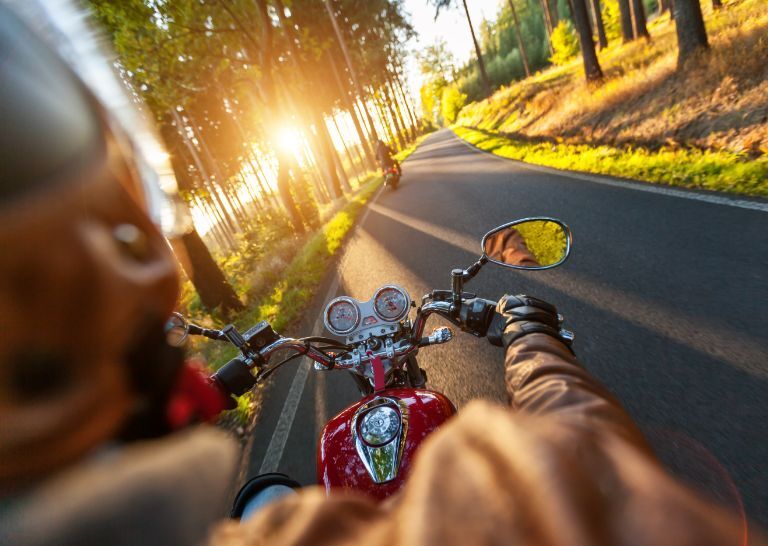 Helping Motorcycle Accident Victims Recover in San Francisco
If you or a family member are recovering from injuries suffered in a motorcycle accident that someone else caused, a San Francisco motorcycle accident attorney is the best resource to consult to determine your most viable recovery options. If another driver injured you, state law dictates that they are liable for all the damages resulting from their actions. An experienced legal team can assist you in filing your auto insurance claim against the at-fault driver, and if this does not yield full compensation for your losses, they can help you build a personal injury claim as well.
Rush Injury Law has many years of experience in handling San Francisco personal injury claims, including those resulting from motorcycle accidents and other motor vehicle accidents. We can apply this professional experience to your claim, helping you understand the various legal mechanisms in play as you seek compensation for the damages you suffered. Our firm has assisted many past clients with their recovery efforts following damaging accidents, and we know the challenges you are likely to face in your own legal proceedings.
Common Reasons for Motorcycle Crashes in San Francisco
Even the best-quality riding gear and helmets can only mitigate injuries from motorcycle accidents, not prevent them entirely. If another driver is responsible for your recent accident, you must prove they caused the accident through some form of negligence or intentional misconduct. Additionally, you must show proof of the full scope of your damages and prove they resulted directly from the defendant's actions and not another cause. Your San Francisco motorcycle accident attorney will be invaluable for proving all of the damages you can seek from the defendant and for establishing causation for those damages beyond any doubt.
Motorcycle accidents happen for the same reasons other vehicle accidents happen, but motorcyclists are especially vulnerable to certain risk factors and are more likely to suffer severe or fatal injuries than occupants of enclosed passenger vehicles. A few common reasons for motorcycle accidents in the San Francisco area include the following:
Distracted driving. Every driver has a duty of care to drive their vehicle attentively. Unfortunately, distracted driving consistently ranks as the top-reported cause of all vehicle accidents throughout the country each year.
Driving under the influence (DUI). If a driver causes an accident due to operating their vehicle while under the influence of alcohol or drugs, they face criminal prosecution from the state as well as civil claims from anyone injured by their actions. DUI penalties typically include fines, driver's license suspension, and jail time, and these penalties automatically increase when the defendant causes bodily harm or death.
Speeding. It is very dangerous for any driver to exceed the posted speed limit as this reduces the time they have to react to sudden changes in traffic patterns or road conditions. Speeding is one of the most common contributing factors in fatal motorcycle accidents reported throughout the country each year.
Poor visibility. Any time a driver's visibility is restricted in any way, they should use extra caution. Motorcyclists are especially vulnerable in severe weather and low light because of their small size, which makes it easier for other drivers to fail to notice them in time to avoid a collision.
No matter how your recent motorcycle accident happened, the first step in recovering your losses is proving fault. You must identify the driver responsible for the accident and prove the scope of the damage they caused if you want to recover as fully as possible from the incident.
Dealing With Auto Insurance Companies in San Francisco
California law requires all drivers, including motorcyclists, to have auto insurance coverage that provides both property damage and bodily injury liability coverage. When another driver hits your vehicle and injures you, filing a claim against their auto insurance policy is typically your first step in recovering your damages. Unfortunately, the state has one of the highest rates of uninsured drivers in the country, so there is no guarantee that the driver responsible for your accident will have insurance coverage at all.
If the at-fault driver does have auto insurance, a San Francisco motorcycle accident attorney can assist you in filing your claim against their policy. You must explain how the accident happened, provide evidence that the policyholder is at fault, and provide a complete list of all the damages you are seeking. Once the insurance company receives your claim, they will investigate it before delivering a settlement offer. Having an experienced San Francisco motorcycle accident attorney draft this demand letter for you will encourage the insurance company to process the claim in good faith as quickly as possible.
Rush Injury Law has helped many past clients face the largest auto insurance carriers in the state, and we know the tactics they often use to attempt to avoid liability for injured drivers' damages. We will thoroughly review the at-fault driver's policy and help you secure the best settlement offer possible; if this is not enough to fully compensate you for your losses, we will help you build a personal injury claim against the other driver.
Compensation in a Personal Injury Claim for a Motorcycle Accident
Any motorcycle accident can easily result in life-changing injuries for the victim and substantial economic losses for the victim's family. If you have exhausted the at-fault driver's insurance coverage and still have outstanding damages, a personal injury claim against them is the best option available to you for securing full repayment of your damages.
California's personal injury laws allow the plaintiff to seek complete repayment of their economic damages. These include immediate financial losses following the accident in question, as well as the long-term economic impact of the incident. For example, if you suffered severe physical injuries, the defendant is not only liable for the cost of all the medical care you required immediately following the crash but also for the long-term medical expenses you face as you work toward maximum medical improvement from your injuries.
Similarly, the plaintiff has the right to claim both lost wages and lost future earning power. Some motorcycle accidents cause injuries that will heal with time and appropriate treatment, while others result in catastrophic injuries and permanent disabilities. Your San Francisco motorcycle accident attorney can help you claim full repayment of your lost income and lost future earning capacity by calculating how much income you would have reasonably expected to earn had the injury not occurred.
Aside from property damage, medical expenses, and lost income, California law also allows the plaintiff in a personal injury case to seek compensation for pain and suffering. This could potentially form the bulk of their final award if the defendant's actions caused them any catastrophic harm. The state does not limit pain and suffering damages in motorcycle accident cases, and attorneys can use various methods to calculate appropriate compensation for the pain and suffering their clients experience.
Maximizing Your Recovery
When you choose Rush Injury Law to represent you in your motorcycle accident case, we will do everything we can to secure the maximum amount of insurance coverage possible from the at-fault driver's policy. Once we have exhausted this recovery option for you, we will then file your personal injury claim, seeking the maximum amount of compensation possible under California law.
One important detail to remember if you plan to file any type of personal injury claim in California is the state's pure comparative negligence law. Under this law, the plaintiff maintains the right to seek compensation for their damages even if they partially caused those damages. If this applies to your claim, the judge handling your claim will assign you a fault percentage to reflect your level of liability. This fault percentage is then deducted from your final award. For example, if you are found 10% at fault, you lose 10% of the compensation you recover from the defendant.
If you have any reason to suspect that comparative fault will factor into your claim or if you simply want the best chance of maximizing your total compensation, it is imperative that you seek legal counsel from a trustworthy attorney without delay. Rush Injury Law can provide the compassionate and responsive legal counsel you need to approach your case with confidence and peace of mind. The sooner you reach out to secure our counsel, the sooner we can begin guiding you toward recovery.
San Francisco Motorcycle Accident FAQs
Q: What Do San Francisco Motorcycle Accident Attorneys Charge?
A: It's understandable to worry about the potential cost of legal expenses while you are already struggling with injuries and the financial aftermath of a serious accident. Rush Injury Law accepts personal injury clients under the contingency fee billing system, so there is no financial risk to you by hiring our firm to represent you. With a contingency fee agreement, you only pay a legal fee after we win, and the fee is a percentage of your final award. If we are unable to secure compensation for you, you pay nothing.
Q: Will It Take a Long Time to Settle a Motorcycle Accident Claim?
A: When the defendant is clearly to blame for your damages, and you have an experienced San Francisco motorcycle accident attorney on your side, it may take only a short time to complete the settlement negotiation process. However, if the defendant contests liability for your damages, your case may need to be resolved through litigation. This could take many months or longer to complete depending on the specifics of the case, and the final outcome rests in the hands of the judge overseeing the case.
Q: What Is My Motorcycle Accident Case Worth in San Francisco?
A: State law allows the plaintiff in a personal injury claim to seek full compensation for all the economic damages they suffered because of the defendant's actions. This includes immediate economic losses like hospital bills and vehicle repair costs as well as ongoing and future losses such as lost wages and long-term loss of earning capacity. Additionally, plaintiffs in the state can claim compensation for pain and suffering. Your San Francisco motorcycle accident attorney can provide an estimate of your case's total potential value.
Q: What Happens When a Motorcycle Accident Causes a Fatal Injury?
A: If you recently lost someone you love in a deadly motorcycle crash in San Francisco, you can file a claim for wrongful death. There are several ways that a wrongful death claim differs from a personal injury case, and you need to work with an attorney familiar with such cases if you want to reach the best possible results. A wrongful death suit seeks compensation due to the family's losses as well as damages the deceased's estate incurred.
Q: Will Filing a Motorcycle Accident Suit in San Francisco Be to My Advantage?
A: The damages you suffered in your recent motorcycle accident could easily eclipse the total insurance coverage available from the at-fault driver's auto insurance policy. If this applies to your situation, a personal injury claim is the best legal mechanism available to you to maximize your recovery and secure compensation for any losses the at-fault driver's insurance can't cover.
Rush Injury Law has the professional experience and skill you need on your side to maximize the results of all the recovery efforts you pursue following a serious motorcycle accident. Our team has helped many clients face the largest insurance carriers in the state and approach the personal injury claim filing process with confidence and peace of mind. If you are ready to learn how our team can enhance the results of your recovery efforts, contact us today to schedule your consultation with an experienced San Francisco motorcycle accident attorney.