Richmond Bicycle Accident Lawyer
Bicycling is popular in Richmond and the nearby California communities, and while most people can enjoy their time bicycling without having any problems, it is possible for bicycle accidents to happen unexpectedly for many reasons. When these incidents occur, they typically result in devastating injuries to cyclists that, in turn, cause tremendous economic problems for victims and their families.
Experienced Legal Counsel for Bicycle Accident Claims in Richmond
The state enforces the fault rule for all vehicle accidents, including bicycle accidents. This means whoever causes such an accident assumes liability for the resulting damages. This may sound straightforward, but the actual process of legally establishing fault for any accident can be far more challenging than you may expect. If you or a family member is struggling in the aftermath of a serious bicycle accident in the Richmond, CA, area, it is crucial to find trustworthy legal counsel to help you better understand your options for legal recourse.
Rush Injury Law provides compassionate and comprehensive personal injury representation to clients in Richmond and surrounding communities. Throughout the years of our firm's operation, we have successfully handled many bicycle accident claims, so we know the various legal challenges you are likely to encounter when it comes to proving fault and collecting compensation for your damages. It's important to take legal action as swiftly as possible after any personal injury, and the sooner you connect with an attorney you can trust, the sooner they can begin guiding you toward the compensation you legally deserve.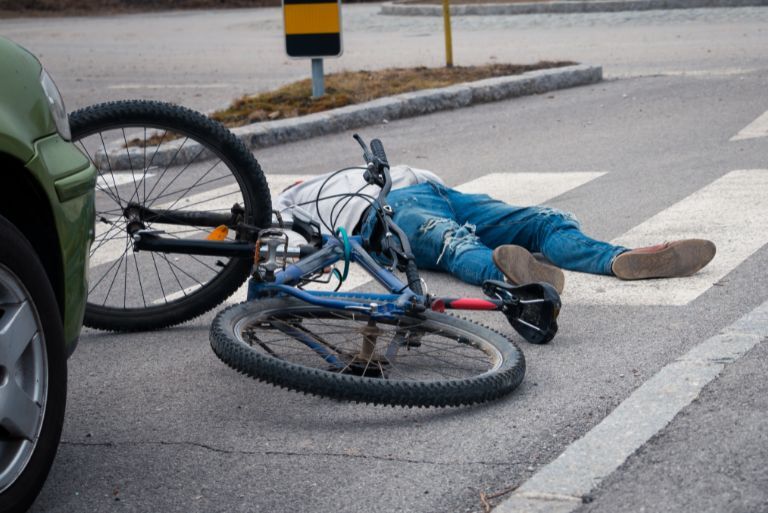 Common Causes of Bicycle Accidents in Richmond
Bicyclists are allowed to ride on most roads in the Richmond area, with the exception of highways and roads that specifically indicate they are not safe for bicyclists. When bicyclists occupy space in a lane of traffic, they are required to heed the same traffic signals and road signs as all other drivers. Additionally, motor vehicle drivers are expected to be courteous to nearby bicyclists and yield the right-of-way where appropriate, as they would for other motor vehicle drivers.
Unfortunately, not all drivers demonstrate this courtesy, and some engage in various forms of intentional misconduct that can easily result in devastating accidents. Most of the bicycle accidents reported in Richmond are the effects of negligence, or failure to exercise reasonable caution and care in specific situations, but these incidents may also result from illegal misbehavior. Some of the most commonly reported causes of bicycle accidents that generate civil claims for damages in the Richmond area include:
Distraction behind the wheel. All drivers are required to operate their vehicles attentively, and just a few seconds of distraction can lead to a devastating accident. Your Richmond bicycle accident attorney can help gather whatever evidence you may need to prove that your accident resulted from another driver's failure to pay proper attention while driving, such as their cell phone records or traffic camera footage.
Speeding, which reduces how much time a driver has to adjust for changes in traffic. Speeding also increases the severity of resulting damages when accidents happen, and catastrophic or fatal injuries are most likely to occur in high-speed collisions. This is especially true when bicyclists are hit by speeding drivers.
Traffic violations such as failure to yield the right-of-way, failing to signal before turns and lane changes, and failing to stop for stop signs or red lights can easily result in collisions. Bicyclists are especially vulnerable in dense traffic when driving violations occur because one driver's actions may startle multiple others, leaving the bicyclist caught in the confusion.
Driving under the influence (DUI) of drugs or alcohol, which is a crime punishable by jail time, fines, and driver's license suspension. Penalties for DUI conviction increase when a defendant has a record of past DUIs and/or they cause bodily harm or death from intoxicated driving.
It doesn't matter how a bicycle accident occurs; the injured bicyclist must be prepared to not only prove fault but also prove the full extent of the resulting damages from the incident. An experienced Richmond bicycle accident attorney can assist their client in gathering evidence to support their recovery efforts, which are likely to include an auto insurance claim against the driver responsible for the accident, followed by a personal injury suit.
Proving negligence requires evidence that the defendant held a duty of care they failed to fulfill, such as the duty of care to drive attentively or to refrain from drinking alcohol prior to operating their vehicle. The plaintiff must then prove that the defendant's breach of duty directly caused measurable harm, such as property losses, medical expenses for physical injuries, and lost income due to the inability to work.
Recovering Compensation for a Bicycle Accident in Richmond
When a motor vehicle driver hits a bicyclist, this qualifies as a motor vehicle accident, and the injured driver has the right to file a claim against the driver at fault's auto insurance policy. Every driver must have appropriate auto insurance coverage, which comes into play whenever they cause an accident with another vehicle driver. However, the state has a very high number of uninsured drivers, and there is no guarantee that even if the responsible driver has insurance, it will be enough to fully compensate the victim's losses.
Your Richmond bicycle accident attorney can help file your insurance claim against the driver responsible for the crash, and you must do so as soon as possible after your accident. You typically only have a few days at most to report an accident to the appropriate insurance carrier, and failure to report the accident within this time limit could amount to you losing your right to claim compensation from the defendant.
An experienced attorney is an ideal asset to have to assist you with an auto insurance claim. They can help draft your demand letter to the insurance carrier, and they can resolve any issues that may arise during the claim determination process. While most insurance companies will process claims in good faith, some attempt to take advantage of the average person's lack of awareness of their rights, preying on their desperation to coerce them into accepting lowball settlements. A Richmond bicycle accident attorney can help their client receive a fair settlement from an at-fault driver's insurance company, typically in less time than the client could have managed on their own.
After securing as much compensation as possible through the auto insurance claim process, your attorney can then help build a personal injury claim against the driver who caused the accident, recovering any damages their insurance cannot repay.
Claiming Compensation in Richmond Bike Accidents Cases
The purpose of any personal injury claim filed is for the victim to become "whole" again. Under the state's personal injury statutes, the defendant is liable for any economic damages they inflicted on the plaintiff, and the plaintiff also has the right to claim pain and suffering compensation.
Your Richmond bicycle accident attorney can help recover your economic damages, which are likely to include the following:
Medical treatment costs for your injuries. Most bicycle accident claims involve severe physical injuries like broken bones, traumatic brain damage, and internal organ injuries. You have the right to hold the defendant accountable for any and all economic losses you sustained because of their negligence or misconduct. This includes the costs of any future medical care you are likely to require after your initial recovery phase.
Lost income. When you are unable to work due to the injuries you suffered in a bicycle accident, the driver at fault is liable for the income you are unable to earn during your recovery. You also have the right to claim compensation for lost future earning capacity if you cannot return to work in the future because of your injuries. A good attorney could help their client calculate how much they would have reasonably expected to make in the future if they hadn't been injured.
Property damage. You can hold the defendant accountable for the cost of repairing or replacing your bicycle and any other personal belongings that were destroyed in the accident.
When you choose Rush Injury Law to represent your bicycle accident claim in Richmond, our goal is to maximize your recovery to the fullest extent allowed under California's personal injury statutes. You might be surprised to learn the true value of the economic damages you can recover through your claim, but your recovery does not end here.
You also have the right to seek pain and suffering compensation from the defendant. This may sound hard to translate into monetary value since physical pain and psychological suffering are intangible losses. There is no limit to how much pain and suffering compensation a plaintiff can claim for a bicycle accident, and this may form the bulk of their recovery if they suffered severe life-changing injuries that caused permanent disabilities.
The two most common methods used for calculating pain and suffering compensation in personal injury claims are the multiplier method and the per diem method. The multiplier method involves adding the plaintiff's total economic losses and then multiplying this amount by a factor that reflects the severity of their condition. The per diem method aims for a set amount of compensation for each day the victim spends recovering from their losses. The multiplier method is typically more suitable in cases in which plaintiffs have suffered life-changing catastrophic injuries, while the per diem method is more commonly used when plaintiffs are expected to make full recoveries.
Other Personal Injury Statutes to Know for Your Richmond Bicycle Accident Claim
The first procedural challenge you must confront when you intend to file any type of civil claim for damages is the statute of limitations or time limit for filing your claim. Most personal injury claims in the state are beholden to a two-year statute of limitations, so a plaintiff must file their case within two years of the date their injury occurred.
Another challenge that may arise if you bear any level of partial responsibility for your accident is the state's pure comparative negligence law. Under this law, a plaintiff can still recover compensation for their damages if they are partially to blame for causing them, but they lose a portion of their award reflecting their level of fault. For example, if a plaintiff is 25% at fault, they lose 25% of their case award. If you have any reason to worry that you are partially responsible for your damages, it is crucial to reach out to an experienced Richmond bicycle accident attorney as soon as possible.
What to Expect From Your Richmond Bicycle Accident Attorney
When you have Rush Injury Law representing you in a bicycle accident claim, you will be prepared to meet any and all legal challenges you encounter as you seek accountability for your bicycle accident and compensation for the resulting damages. Our firm has years of experience in personal injury law that we are ready to leverage on your behalf, so you can approach your recovery process with confidence and peace of mind.
Our team accepts personal injury clients on a contingency fee basis, so there is no reason to worry about the potential cost of your legal fees when you hire our firm to represent you. There are no upfront legal fees for our firm's representation, and we will not charge any fees for the duration of your case. You only pay a legal fee if and when we win your case, and our fee will be a percentage of your final case award. This ensures you have access to the legal counsel you need regardless of your financial situation. Any personal injury can impose life-changing damages, and we will not add to your frustration and worry with exorbitant legal costs on top of the financial challenges you are already facing.
Time is a crucial factor in any civil claim for damages, and an injured plaintiff has the greatest chance of recovering compensation for their damages when they take swift legal action after a personal injury. Speaking with an attorney as soon as possible after a bicycle accident helps to ensure the reliability of evidence and witness testimony you may need to prove fault for the accident. Rush Injury Law can start working on your case immediately; contact our team today and schedule a free consultation with a Richmond bicycle accident attorney you can trust with your recovery efforts.