Richmond Pedestrian Accident Attorney
Thousands of people walk through the metropolitan areas of California every day, sometimes very close to moving traffic. While most pedestrians in the Richmond area are able to reach their destinations safely, pedestrian accidents can happen without warning for many reasons. Whenever drivers fail to exercise reasonable care around pedestrians or engage in willful misconduct behind the wheel, they put themselves and others at risk. Whenever a vehicle hits a pedestrian, the victim is likely to suffer life-changing injuries.
Helping Richmond Pedestrian Accident Victims Recover
When you or a family member is struggling with injuries suffered in a pedestrian accident, you need trustworthy legal counsel to help you recover. The driver who caused the accident is liable for any and all damages they inflict on your family, and the process of holding them accountable can be more challenging than you might expect. Working with seasoned legal representation is not only the optimal way to prove whose fault the accident is but also to maximize your compensation. You could be entitled to claim more compensation than you may initially realize, and Rush Injury Law is ready to help you navigate your recovery efforts.
Our team has extensive professional experience in personal injury law, and if you are hurt in a pedestrian accident someone else caused in the Richmond area, we know how to hold them accountable. You could face a host of complex legal issues you would not know how to properly address on your own, so having our team provide the guidance and support you need for this challenging situation is very helpful.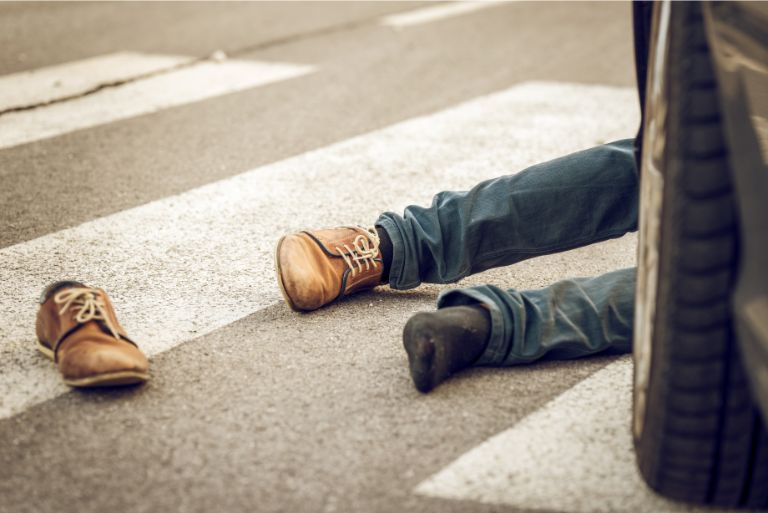 Proving Liability for a Pedestrian Accident Personal Injury in Richmond, CA
California upholds the fault rule when it comes to motor vehicle accidents, including those that involve pedestrians. A driver always has a duty of care to avoid hitting pedestrians at all times, and any failure to uphold this duty of care will lead to liability for the resulting damages. Your Richmond pedestrian accident attorney can help gather the evidence needed to firmly establish fault for your pedestrian accident.
A few of the most common forms of negligence that cause pedestrian accidents in the Richmond, CA area include distracted driving, moving violations, and speeding. Whenever a driver is negligent behind the wheel and causes an accident, they absorb liability for all resulting damages. However, the state enforces a pure comparative negligence rule, meaning that if a plaintiff contributes to causing their claimed damages, they lose a percentage of the case award recovered from the defendant.
The most common example of comparative fault that arises in pedestrian accident claims is jaywalking, a term for crossing the street outside of the designated crosswalk. Whenever a pedestrian does this, they are inherently putting themselves in danger. If they walk in front of an oncoming vehicle and the driver does not have time or space to stop, they are likely to absorb some partial fault for the incident. There is no threshold of plaintiff fault that bars them from claiming compensation. Whatever percentage of fault they hold for the accident is deducted from their final case award. For example, if a judge deems an injured pedestrian to be 10% at fault for their accident, they lose 10% of the total compensation won from the defendant.
It is also possible for a pedestrian accident to happen because of a driver's illegal misconduct, such as driving under the influence (DUI) or reckless driving. In these situations, at-fault drivers face criminal charges along with civil liability for the damages they cause to others. If this applies to your case, your Richmond pedestrian accident attorney can advise you as to how this may influence your recovery efforts.
Claiming Compensation for a Pedestrian Accident in Richmond
Proving fault for your recent pedestrian accident is just the first step in your recovery. After you prove how the accident happened, you must then prove the full scope of the resulting damages. Similar to the aftermath of a car accident, after a pedestrian accident, you have the right to file a claim against the driver at fault's auto insurance policy for some initial compensation, but if they do not have insurance or if their insurance cannot completely repay your damages, you will need to file a personal injury suit against them.
A Richmond pedestrian accident attorney is an invaluable asset for both an insurance claim and a personal injury case following this type of accident. Your legal team can help gather the evidence needed to firmly prove fault for your damages; they can also assist you in proving the full extent of those damages.
Under California's personal injury statutes, the victim of a pedestrian accident has the right to claim compensation for:
Medical treatment. Pedestrian accidents can easily cause catastrophic physical injuries such as spinal cord damage, traumatic brain injuries, broken bones, and more. Many victims of these accidents sustain multiple injuries that demand extensive immediate and ongoing care. Your Richmond pedestrian accident attorney can help prove the full scope of immediate and future healthcare expenses you are likely to face from the accident. The defendant is liable for all the medical care you require to achieve maximum medical improvement from your injuries.
Lost income. People who sustain injuries in pedestrian accidents cannot work for extended periods of time. If you cannot work and earn an income because of a defendant's actions, they are responsible for compensating you for your lost wages. Additionally, if your accident left you with a lifelong disability and you cannot return to work, the defendant is responsible for your lost earning power as well.
Property losses. If you lost any personal property in the pedestrian accident, the defendant is liable for these damages as well.
Pain and suffering. State law allows the victim of a personal injury to seek compensation for the physical pain and psychological distress they suffered from the incident. There is no limit on pain and suffering compensation for most personal injury plaintiffs, so your attorney can assist you in determining a fair amount that reflects the severity of your accident and your condition afterward.
If the defendant caused your pedestrian accident through any illegal misconduct, they may also face restitution along with their other criminal penalties, or the judge in your civil suit could award you punitive damages in addition to your economic and non-economic damages. If you bear partial responsibility for the accident, it will diminish your recovery, but it is unlikely for a pedestrian to ever hold a higher fault percentage than a driver who hit them. Ultimately, any personal injury case can involve a multitude of complex variables that influence the plaintiff's final recovery. When you choose Rush Injury Law as your legal representation in this type of case, our goal is to help recover as much compensation as possible as efficiently as possible.
What to Expect in Your Pedestrian Accident Claim
Most of the personal injury cases filed each year end in a private settlement. The private settlement negotiation process enables both the plaintiff and defendant to streamline their case, keep it out of the public eye, and resolve the matter with mutually acceptable terms. Settlement also saves both parties time and money they would otherwise spend on litigation. When the defendant is clearly at fault for the incident in question, it behooves them to agree to a settlement. However, settlement may not be an option in every pedestrian accident claim.
A defendant may not agree to a settlement if they dispute their liability for the accident or if they disagree with the range of damages sought by the plaintiff. If, for any reason, you are unable to settle your case outside of court, you must prepare for litigation. The litigation process can be extremely tedious and time-consuming, with some cases taking several months or longer to resolve.
Contact Your Pedestrian Accident Lawyer Today
Rush Injury Law has years of experience handling a wide variety of civil claims, including those pertaining to pedestrian accidents. We take time to learn as much as we can about each client's unique story, helping them identify the various forms of compensation they can seek from those responsible for harming them.
If you are concerned about legal fees for your pedestrian accident claim, this is no cause for worry when you choose Rush Injury Law to represent you. We take personal injury cases on a contingency fee basis, so there are no fees upfront for hiring us and no ongoing legal fees for our firm's representation. Instead, we take a percentage of the total amount recovered at the end of your case, but only if we win. If, for any reason, our firm is unable to win compensation for your damages, you pay nothing, so there is no risk in hiring our firm to represent your case.
To have the highest chance of success with any personal injury claim, it's vital to secure trustworthy legal counsel as soon as possible after your injury. The initial aftermath of any pedestrian accident can be difficult to navigate, but the sooner you retain trustworthy legal counsel, the more likely you are to reach a positive outcome for your case. Contact Rush Injury Law today to schedule a consultation with us and learn more about the professional legal services we offer in Richmond.