Richmond Motorcycle Accident Lawyer
Motorcycles are popular and can be very fun to ride, but they are also inherently dangerous for many reasons. It's crucial for every rider and passenger to know the risks they face while riding and to acknowledge the fact that motorcycles lack the safety features found in enclosed passenger vehicles. While cars have airbags, seatbelts, and crash-absorbing frames, motorcycles offer no physical protection when accidents occur, and riders face suffering injuries from colliding with other vehicles and the secondary impact of hitting the ground.
Experienced Legal Counsel for Richmond, CA, Motorcycle Accident Victims
If you or a family member is suffering from injuries sustained in a motorcycle accident that another driver caused, you have the right under the state's personal injury laws to seek accountability for the accident and compensation for your damages. An experienced Richmond motorcycle accident attorney is the ideal asset to have on your side in this situation. Your legal representative can help you navigate the complex insurance claim filing process and a subsequent personal injury case, helping you recover from your losses as fully as the law allows.
Rush Injury Law provides comprehensive legal counsel to victims of motorcycle accidents and other personal injuries in Richmond and surrounding communities. We maintain a balanced caseload to ensure that every client has full access to our professional resources and experience throughout all stages of their case. If you are struggling in the aftermath of a motorcycle accident, we can help you approach your recovery with greater confidence and peace of mind.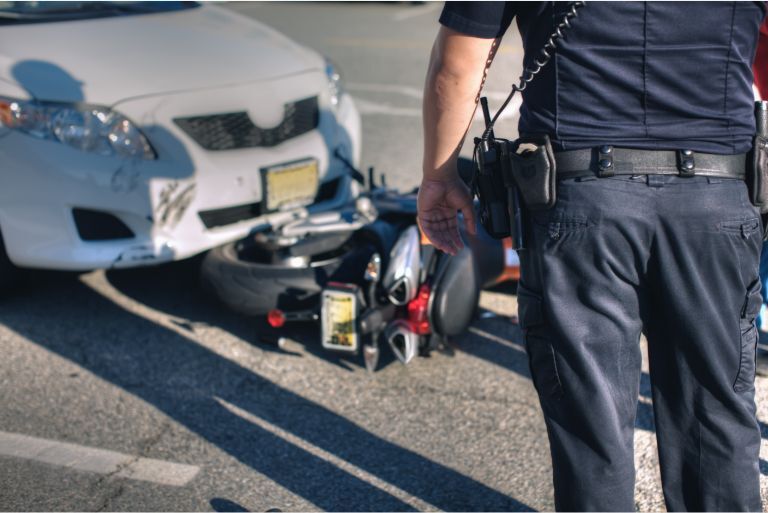 Common Causes of Motorcycle Accidents
California upholds the fault rule for motor vehicle accidents, meaning it is crucial to prove who caused an accident and how they caused it before you can secure any type of compensation for the resulting damages. Your recovery is likely to require both an auto insurance claim against the at-fault driver and a personal injury suit to recover compensation for damages their insurance won't cover. A few of the most commonly reported causes of motorcycle accidents in the Richmond area include:
Distracted driving, which is especially dangerous to motorcyclists, who are smaller and harder to notice than other drivers in larger vehicles. Cell phone use behind the wheel is the most commonly cited example of distracted driving that causes accidents despite the state banning the use of cell phones while driving several years ago.
Drunk or drugged driving. Any driver who causes an accident while intoxicated by drugs or alcohol faces a conviction for driving under the influence (DUI). The penalties for this are fines, jail time, driver's license suspension, and other penalties issued at the discretion of the sentencing judge. Penalties automatically increase when DUI results in bodily injury or death to others.
Speeding. Any excessive speeding inherently increases the speeding driver's risk of causing an accident. They are also more likely to suffer catastrophic or fatal injuries when an accident happens at high speed. Speeding consistently ranks among the most reported contributing factors to fatal motorcycle accidents throughout the United States each year.
Reckless driving. Intentional moving violations and aggressive driving can not only lead to accidents but also criminal charges for at-fault drivers. Penalties for reckless driving include civil liability for the victim's damages, restitution to the victims ordered at the discretion of the sentencing judge, fines, jail time, and loss of driving privileges.
Ultimately, motorcycle accidents can happen in many ways. If you believe any party is directly responsible for causing your recent motorcycle accident, it is crucial to connect with a reliable Richmond motorcycle accident attorney as soon as possible if you want to recover as fully as state law allows.
Recovery From a Motorcycle Accident in Richmond
Every driver must have auto insurance that meets the state's minimum coverage requirements of $15,000 for bodily injury liability for a single person, $30,000 for bodily injury liability for a single accident, and $5,000 for property damage liability. These coverage limits may compensate a victim of a mild accident, but motorcycle accidents have a high chance of resulting in catastrophic or fatal injuries. Your Richmond motorcycle accident attorney can help you file your auto insurance claim against the at-fault driver's policy, and if this is not enough to fully compensate you for your losses, you will need to prepare a personal injury case to recover the rest.
Under the state's personal injury laws, you have the right to seek compensation for all the economic losses the defendant inflicted. These may include property damage beyond what their insurance covers, so if your vehicle is a total loss from the accident and their insurance only covers part of this loss, you can claim the remainder of the actual cash value of your vehicle in your personal injury claim. You also have the right to hold them accountable for any and all medical care you require for the treatment of your injuries.
If you are unable to work due to your injuries, the defendant also absorbs liability for your lost wages. This includes future income if you are permanently disabled by the accident and cannot return to work. Your Richmond motorcycle accident attorney is the optimal asset to have on your side for maximizing your economic damages, but they can also help you recover pain and suffering compensation. California law does not limit the pain and suffering in motorcycle accident claims, so your attorney will help you determine a reasonable figure to reflect the severity of your condition and the future complications you are likely to face after your accident.
Rush Injury Law has the skills and resources you need on your side to recover as fully as state law allows. We are prepared to guide you through every phase of your recovery efforts, from an initial insurance claim against the other driver to a more expansive personal injury case.
Motorcycle Crash FAQs
Q: How Can I Prove Fault for a Motorcycle Accident Injury Claim in Richmond?
A: Proving liability for your recent motorcycle accident may require various forms of evidence. Your Richmond motorcycle accident attorney may assist you in gathering physical evidence from the scene of the accident, digital evidence like vehicle computer data and cell phone records, and statements from eyewitnesses who saw the accident happen firsthand. Depending on the complexity of the accident, it is also possible that you may require expert witness testimony from relevant professionals to explain the specific technical details of the forces in play in your recent accident.
Q: What Happens if I Partially Caused My Motorcycle Accident?
A: It is possible to still recover compensation for your damages if you are partially liable for your recent motorcycle accident. However, state law dictates that you will lose a percentage of the total compensation claimed from the defendant to reflect your shared liability. The state upholds the pure comparative negligence law, so there is no fault threshold that bars plaintiff recovery. It is theoretically possible for a plaintiff to be 99% at fault and still have the right to recover the remaining 1% of their damages. Whatever fault percentage the plaintiff holds is the percentage of their case award they will lose to reflect their shared liability.
Q: How Long Do I Have to File a Personal Injury Claim for a Motorcycle Accident?
A: The state upholds a two-year statute of limitations on personal injury claims. You must file your civil suit within two years of the date your accident happened; otherwise, you will miss your opportunity to recover compensation from the at-fault driver. It is advisable to start the process as soon as possible to have the greatest chances of success in your recovery efforts. The sooner you connect with a Richmond motorcycle accident attorney, the sooner they can begin helping you with your claim.
Q: How Much Compensation Can I Win for a Motorcycle Accident in Richmond?
A: The total amount of compensation you win from the defendant who caused your accident hinges on the scope and severity of your losses. You have the right to seek full repayment of all your economic damages, such as vehicle repair costs, hospital bills, and lost wages. This includes anticipated future losses such as lost future earning capacity if you have been permanently disabled. California law also allows you to seek pain and suffering compensation from the defendant, and this may eclipse the total of your economic damages depending on the severity of your injuries.
Q: How Much Does It Cost to Hire a Richmond Motorcycle Accident Attorney?
A: Rush Injury Law intends to make legal representation accessible and affordable to those who need it most with contingency fee billing. Under a contingency fee agreement, the client does not pay any legal fees until their attorney wins their case. If for any reason, the attorney cannot secure compensation for the client, the client pays nothing. If they win their case, the attorney takes a percentage of the total compensation recovered from the defendant as their fee.
When you need legal counsel you can trust for a motorcycle accident case in Richmond, the team at Rush Injury Law can provide the guidance and responsive communication you expect from your legal representative. We take time to learn each client's story and help them understand the legal mechanisms that their recovery efforts are likely to entail. If you are ready to explore your legal options after suffering injuries and economic losses due to another party's negligence or misconduct, contact us today to schedule a free consultation with a Richmond motorcycle accident attorney.