Petaluma Motorcycle Accident Lawyer
The Golden State offers hundreds of miles of Pacific Coast shoreline, gorgeous weather year-round, and a diverse scenery ranging from dense forests and winding mountain roads to vast stretches of rugged bluffs and canyons. This has made California not only the number one state in the US for motorcycle ownership but a top travel destination for motorcycle enthusiasts around the world. However, riders face a variety of hazards on roadways, and even the most cautious riders can become involved in a serious collision, especially when other motorists fail to share the road. A driver who travels at excessive speeds, switches lanes without checking their blind spot, or follows a motorcycle too closely can cause devastating, often fatal accidents.
If you sustained an injury in a motorcycle crash due to the negligent actions of another person, you have the right to pursue compensation in a personal injury claim. Review the information below to learn more, then contact Rush Injury Law to get started on your case.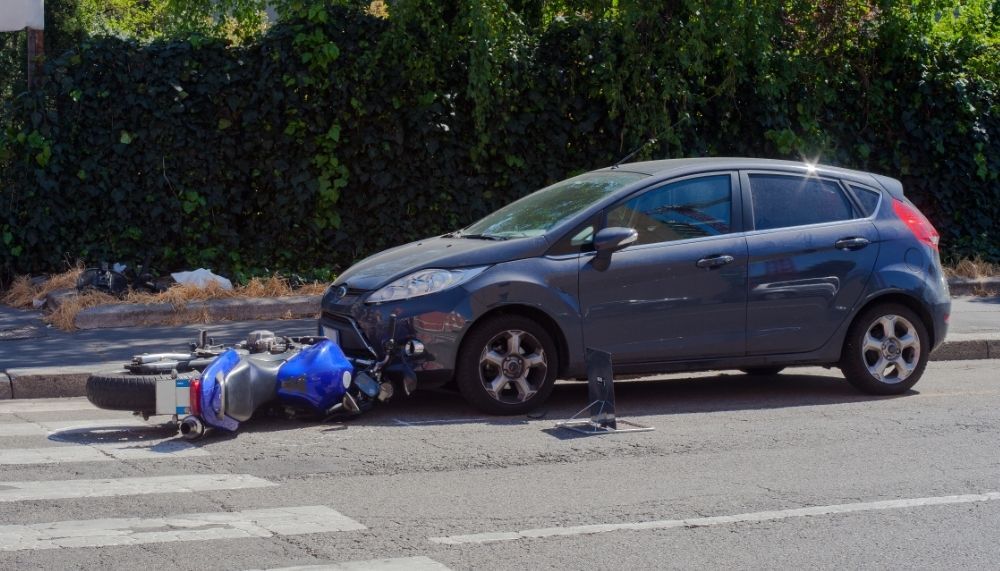 Who Is Liable in a Petaluma Motorcycle Accident?
Like in other types of personal injury claims, establishing liability for a motorcycle accident claim requires identifying the parties responsible for the injury-causing accident and establishing that their negligence caused the accident and related injuries. All drivers have a duty of care to exercise reasonable caution when operating their vehicles on state roadways, meaning they must follow traffic laws, share the road, and keep a proper lookout. Failure to adhere to this duty makes a driver liable for any property damage, physical injuries, and related losses that result from an accident. Negligence can take the form of either acting in a manner that a reasonably cautious person would not under similar circumstances or failing to act in an appropriate manner when necessary to avoid harm to others.
Your Petaluma motorcycle accident lawyer can investigate the collision to show the full scope and severity of your injury, establish liability, prove that the other driver's negligence caused the accident, and determine the damages you are rightfully owed for your losses. Under California law, you can pursue compensation for the following damages:
Past, current, and ongoing medical expenses required to properly treat your injury, such as emergency room or hospital bills, surgical procedures, prescription medications, assistive devices, physical therapy, and travel costs for healthcare appointments
Lost income if your injury left you unable to work for an extended period of time
Lost earning capacity if you are permanently disabled and cannot return to work at all
Property damage for repair or replacement of your motorcycle or other personal property that was damaged or destroyed in the accident
Pain and suffering (physical pain, psychological trauma, or emotional distress)
It is important to note that California follows a "pure comparative negligence" statute for personal injury claims. This means that you may bear liability for causing your damages but can still recover compensation if you were partially at fault for the accident. If your case goes to court, the judge will assign you a percentage of fault based on your contribution to the accident and reduce your compensation award by this percentage. For example, if your damages are calculated at $100,000 but you are 20% at fault for the accident, you will receive $80,000 in compensation for your injuries.
Is It Worth Getting a Motorcycle Accidents Lawyer?
Although it is not necessary to hire an attorney for a personal injury claim, approaching your case with legal representation gives you the best chance of proving your claim and recovering the maximum compensation for your injuries. Insurance companies are well-known for fighting back against valid claims and will do whatever they can to minimize or avoid a payout. This includes contesting the severity of your injuries, shifting the blame for the accident from their client onto you, requesting unnecessary paperwork to stall the case, offering lowball settlements, and even harassing you with constant phone calls. Dealing with these tactics is difficult enough when you're healthy, yet nearly impossible if you're trying to recover from a serious injury.
A Petaluma bike crash attorney has the legal knowledge, experience, and negotiation skills to manage every aspect of your case from the very beginning. This includes:
Explaining your rights and options for pursuing compensation
Gathering evidence to support your claim, such as police reports, surveillance footage, photographs, witness statements, medical records, hospital bills, and pay stubs
Identifying all liable parties
Proving that their negligence contributed to your injury
Calculating a fair settlement offer that adequately covers your damages
Negotiating on your behalf to deliver the compensation you deserve
Recognizing when an insurance company is engaging in bad faith practices
Litigating your case in court if the insurance company denies your valid claim or refuses to offer a sufficient settlement amount
How Long Does It Take to Settle a Motorcycle Accident?
Every motorcycle accident is different, but in most cases, the process begins with your attorney filing an insurance claim on your behalf. Alternatively, you may need to pursue a personal injury claim if the liable driver is uninsured or their insurance policy fails to fully cover your damages. Many claims settle outside of court, allowing plaintiffs to recover compensation more quickly than would be possible in a trial and allowing defendants to avoid expensive litigation. Simple claims can be settled within a few months, yet the more complex your case and the greater your damages, the more likely you are to encounter issues during negotiation. If you file a personal injury claim, your case progresses to trial and may take two years or more to resolve.
Recover the Compensation You Need to Heal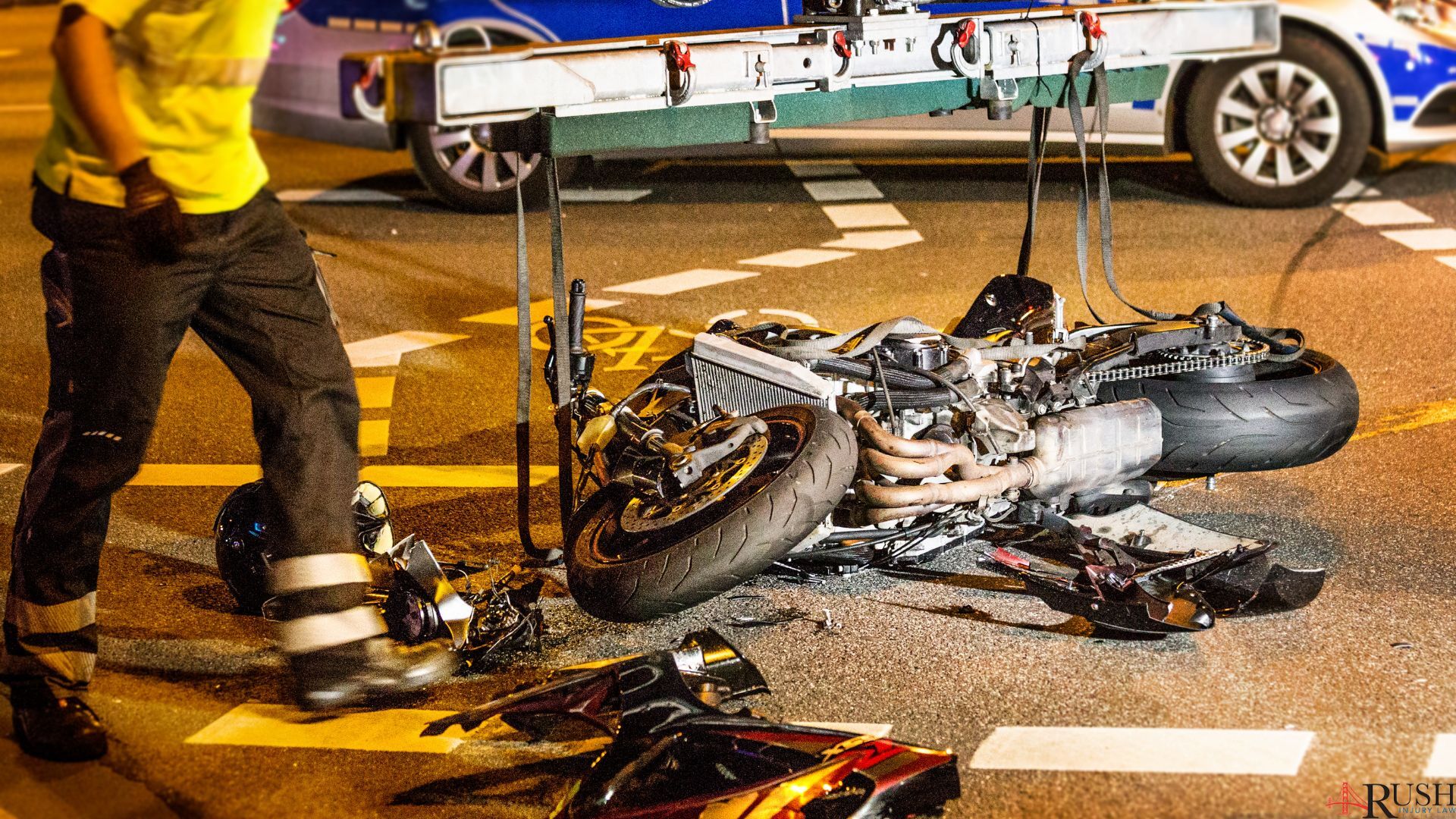 If you are injured in a motorcycle accident, securing legal representation from a Petaluma motorcycle accident lawyer is critical for protecting your right to recovery. Rush Injury Law offers a full range of legal services so you can focus on healing while we handle the technical components of your case. We will establish the full extent and severity of your injuries, explore all avenues for recovery, guide you through every stage of your claim, and fiercely advocate for your interests. Contact us today to speak with our expert team.